What is Going to Happen Next?
Visit this website for full details.
Release Date: 2021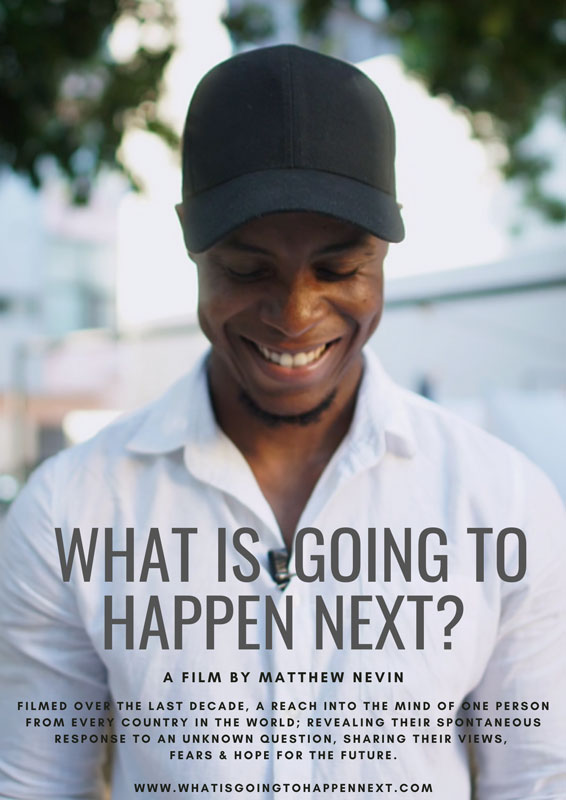 Logline:
Filmed over the last decade, a reach into the minds of one person from every country in the world; revealing their spontaneous response to the title question, sharing their views, fears & hopes for the future.
Story Summary/Synopsis:
'What is Going to Happen Next?' is an ambitious documentary that showcases a curated selection of unrehearsed video responses to the title question, put to one person in every country around the world.
The film emerged from a ten-year-long socially engaged project to capture opinions from all 203 sovereign states as defined by the United Nations. The documentary, which was completed in 2020, presents a curated selection of these participants. This film creates a global discussion that serves to highlight the diversity and complexity of humanity.
To initiate a genuinely unplanned answer to the title question, the participants were not informed of the question in advance. Instead, the participants were asked to record themselves reading the question, and were given just two minutes to respond. By removing the participant's ability to prepare, the film presents its audience with a series of natural responses and a variety of behavioural nuances within an international cultural context.
By showcasing participants' choice in visual setting, manner and practice of participating, along with a series of complex personal, social and political responses, the film attempts to give voice to the incredible diversity of our planet's population.
Characters: The documentary features a selection of key participants from a broad range of backgrounds including teachers, artists, entrepreneurs, journalists and photographers.
Topic summary:
'What is Going to Happen Next?' forms a periodic archive of an international group of individuals. By exploring the thoughts of a select number of citizens of Earth, the documentary ultimately focuses on personal intervention, engagement, and critique of dominant political and economic issues within our global society, allowing the audience to directly connect with relatable narratives and journeys.
The documentary provides a platform for activism; motivated by political participation and spectatorship. Through transnational dialogues, it connects the audience across international borders, showcasing participants addressing key issues of personal, local, global and political futures.
By highlighting how diverse and complex every nation is, the film presents an open door to international cultures and actively gives a glimpse into each and every sovereign state. While focusing on the role of individual voices in a crowded globalized digital world, the film questions the 'power' individuals hold to represent their country, and what part do countries/boundaries play in our increasingly interconnected societies.
Artistic Approach:
'What is Going to Happen Next?' blends short narratives from an eclectic pool of participants in an attempt to gain an intimate and yet broad view of our personal and global futures. These personal, relatable stories and subjective topics showcase the similarities between all our lives, and how important it is for humanity to unite together to combat global issues while strengthening our personal futures.
The film will act as a creative political force, influencing and creating new social responsibilities in the viewer, contextualized by using global connectivity to assert its cause.
Referencing Joseph Beuy's term 'social sculpture', the film aims to outline art's ability to transform society. Beuys believed art is capable of dismantling the negative paradigms in our social systems; therefore, the film's ultimate goal is to become a successful endeavour that challenges society's' perception of creativity and the power of its political agency.
Film Values:
The film highlights a selection of key issues that affect all citizens of our world, emphasizing our similarities through its portrayal of the shared concerns and goals of the participants .
The film forecasts the need and want for a more multicultural inclusive society and culture across the world, honouring diversity and sustainable environment.
The documentary pushes critical thinking by opening up societal narratives through imagination and deep conversation, showcasing the complexity of characters and behaviours across the globe.
The film inspires solutions to critical issues and supports innovative thinking, while highlighting the need for conservation through change in our current form of living, to create a more sustainable planet.
Follow up Documentary:
The director is developing a sequel documentary in which he intends to fly out and meet a large selection of the international participants and document What did happen next? in the personal lives and countries of our new global pool of voices.